First, how about you check out a short gameplay snippet of Fantasy Strike?
Catch these Hands, Feet and Fireballs!
This past weekend I had the opportunity to attend EVO in Las Vegas. EVO Championship Series is the World's biggest international tournament for fighting games. Players from all over the world came to compete in games such as Street Fighter, Tekken, Smash Brothers, Marvel VS Capcom and more. The Fighting game community (FGC) has grown exponentially over the years and is only getting bigger. EVO started off as a smaller niche event that took place in Hotel Ballrooms. This year Grand Finals took place at the Mandalay Bay Events Center. The venue is a huge arena where our fighters took to the stage. With that being said, people gather from all around the world to share their passion for fighting games.
Where there are large numbers of people, there is marketing. At EVO, not only can you expect people walking around with their own custom fight sticks but you can expect to see vendors, developers, artists and spectators. EVO has an Artist's Alley where you can purchase home made crafts of your favorite characters. Official vendors and companies come out to sell their merchandise as well. They showcase all the new up coming games that can be demoed as well. EVO had a whole aisle dedicated to new fighting games. We got to play some of them, including one called Fantasy Strike. We had the opportunity to interview David Sirlin, on his new fighting game.
Whose fault is this?
David Sirlin, (Game Designer, Developer, Top 8 Finalist at EVO) has been working hard on a new game, Fantasy Strike. Sirlin is most popular for his re-balancing of Street Fighter HD Remix. Fantasy Strike is a game that is inspired by the fundamentals of fighting games. Initially, Sirlin was skeptical about Divekick, a cult hit from 2014. Sirlin enjoyed the game but he wanted more substance so he created a game that had a similar appeal but to a wider audience. If you didn't know, Iron Galaxy's cult hit, Divekick, is a game that is catered directly to the Fighting Game Community. It features characters and references from nearly everything that is FGC. As an extremely simplified fighting game, Divekick plays using just two buttons. One button for Jump and one for kick. The concept worked really well and brought a lot of fun to competitive and casual players alike.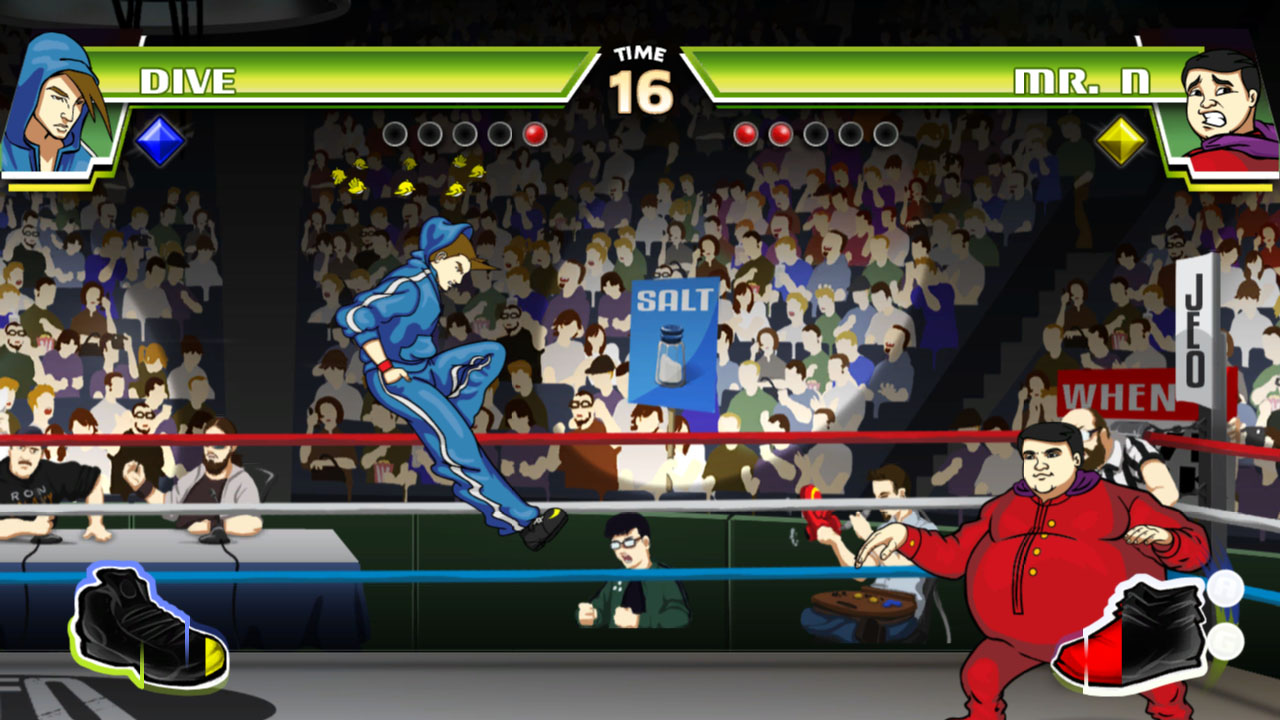 Bridging the Gap
Sirlin wanted to recreate this feel for a video game but take it one step further. Divekick is a game that requires no execution and focuses more on strategy. Execution is usually a crucial skill to have because it allows you to capitalize on each hit. Optimizing combo damage is great for competitive players but discourages newer players from getting better. It takes a lot of time and dedication to get to that level of play.
Sirlin's idea is to make a successful and easy to learn fighting game without making it childish or boring. Though Sirlin isn't against complicated fighting games by any means, he believes there is a bigger audience to catch. There are plenty who would be interested, but too intimidated to get into competitive fighting games. Fantasy Strike is a game that is designed to possibly bridge that gap for players and make for an easy transition. Sirlin also hopes that Fantasy Strike bridges the gap between players at different levels. Two competitors who play different games may be able to quickly make heads or tails of Fantasy Strike and quickly get into some interesting but fair matches. The lack of the need for high level execution also bridges the gap between an experienced player and a less experienced player.
Making it Different
One of the differences between Fantasy Strike and most fighting games is that there is no crouching. That eliminates half of the blocking mix-up one way to help bridge the gap between advanced and novice players. Even the character select screen has marked categories for fighting styles. The titles "Grappler," "Rush-down," "Zoning" can be read above the characters. The categories help minimize time needed to figure out who they want to play. Usually it's a lot of trial and error before you even think you've found your character. The different characters are also designed to have less extreme advantages.
The game has had praise from other very experienced players like J Wong, Markman, Gamerbee. Justin Wong's words went along the lines of "Dude if I didn't like your game I wouldn't have played it 13 times in a row."
Finding a Way
If you're interested in getting into Fantasy Strike or want to help the cause you can click over to their fundraising campaign page: https://www.fig.co/campaigns/fantasy-strike.
Latest posts by Daryl Pebenito
(see all)